Precision Slides
G II Solutions' precision slides operate in conjunction with a DTS spindle and a CNC system. These components are used for profiling, forming, and reforming grinding wheels to a programmed shape. This forming system is necessary when the grinding wheel is a stationary unit, and the spindle must move to dress or true the grinding wheel. As are the DTS spindles, the precision slides are compact and are available in many configurations to serve almost any grinder.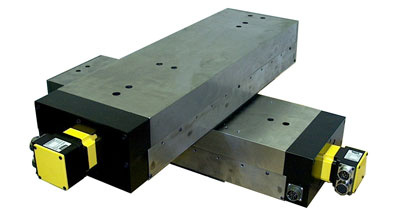 The slide base and saddle are machined and ground from Meehanite cast iron. Meehanite is different from ordinary cast iron. It is composed from a denser, finer grain structure, which assures casting solidity and consistency. It provides the rigidity required when implementing rotary dressing and truing techniques. Smooth motion is provided by needle roller bearings.
Slides are driven by a precision, ground, class C3 or better, preloaded ball screw and a brushless DC servomotor. An optical encoder is mounted directly on the ball screw for optimum positional control. Each axis offers positional accuracy better than 0.0001 inch/inch and repeatability of +/-0.00005 inch.
The CNC controller used to operate the above system may be supplied by G II Solutions or the system may be custom designed to fit the customers' CNC package. G II Solutions is an authorized systems integrator for Fagor Automation Systems and generally uses their components, unless otherwise requested.